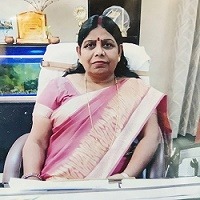 Smt. Shyama Roy
Hon'ble Vice-Chancellor
Munger University
Munger University came into existence on 18th March 2018 and it is all set to evolve as centre of excellence in various disciplines, incorporating all modern subjects and their interfaces. We have fixed up our aims which when fulfilled shall be conducive to growth of an international centre of learning having unlimited scope of recognition of innovative skills and creation & dissemination of knowledge.
This University is situated almost at the same latitude as that of ancient Vikramshila University where a Central University is proposed and planned in a sprawling 500-acre campus and that of the ancient Nalanda University where an international university has already come up with the involvement of Late Dr. A.P.J Abdul Kalam Azad and Nobel Laureate Dr. Amartya Sen. Our university is located almost at the centre of the line joining the two upcoming centres of excellence. Thus, I see the future of an education tourism incorporating Munger, Vikramshila and Nalanda.
The university is planning to launch many innovative courses such as those on Family Management, Food Technology. Also, departments such as, Department of Continuing Learning and Professional Development Studies are on the anvil. The pattern of world's renowned university and flexibility in the curriculum with lot of Capsule Courses and elective papers are part of our motto. Choice Based Credit System and similar reforms are bound to provide opportunities to our students and faculties. We have been building bridges with corporate sectors too.
After the creation of Kolkata University, established in 1857, the education institutions of Bihar kept working under it until the establishment of Patna University in 1917. In 1960, Bhagalpur University was built which was later on named as Tilka Manjhi Bhagalpur University. On 18 March 2018, Munger University, Munger was carved out by bifurcating T.M.B.U., Bhagalpur taking under its jurisdiction of all constituent, affiliated and B.Ed. colleges of Munger, Lakhisarai, Sheikhpura, Jamui and Khagaria districts.
Munger has been a place of historical significance ever since Mahabharata and Ramayana Age. It played its role even during the Buddhist Age. It was the capital of Mir Kasim. It is believed to be a place where King Karna used to donate gold every day. Later, Swami Shivananda lighted a lamp here in that place which keeps on burning. Munger University has been created at such a historical place to keep the light of knowledge burning forever.
It is our professed faith that this University will live up to the expectations of the Government and the society at large. It will prove to be a sanctum sanctorum of learning research, innovation and skill generation. It will sincerely pursue the Upanishadic ideal of Tamaso Ma Jyotirgamay and Asato Ma Sadgamaya. As we are living in a knowledge-based society, it is our obligation to work for quality and excellence. And I seek cooperation not only from the stakeholders but from every section of the society.